Featured Tour

Fort Sumter Dinner Cruise and Tour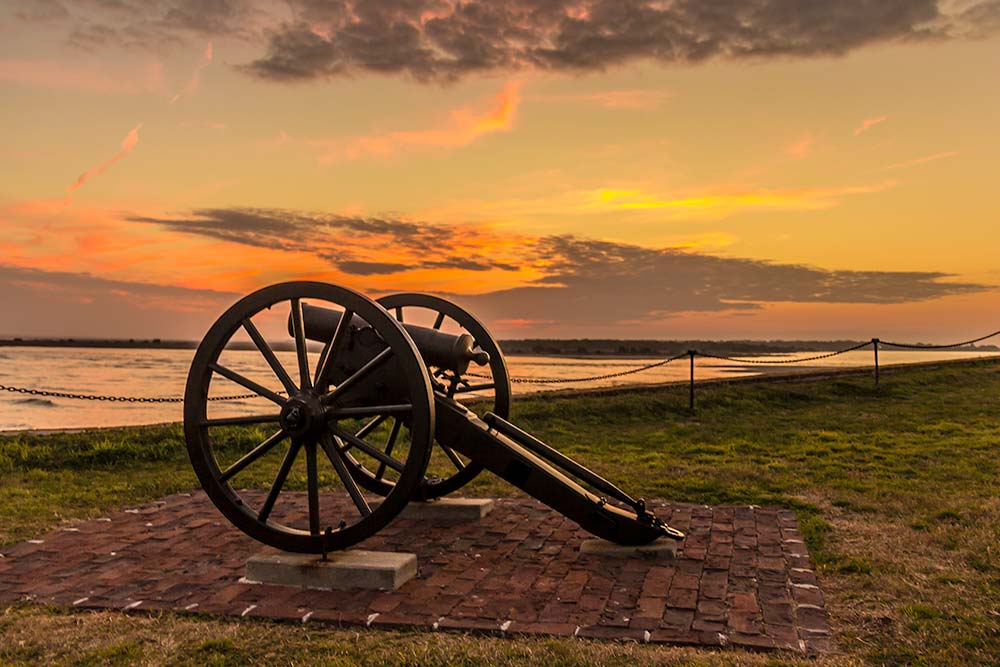 Explore a National Historical Park
Fort Sumter Dinner Cruise and Tour
History, historic Charleston city views and dinner combine for one fantastic evening experience.
The Fort Sumter Dinner Cruise & Tour sails Fridays only during the summer months, May 26 – September 1, 2023.
Take a boat ride through Charleston Harbor and view one of the country's top cities. Arrive at Fort Sumter where National Park Service rangers will share the rich history of the site. For the return cruise, relax and take in the spectacular harbor views while dining on Southern barbecue (sample menu). Beer and wine are available for purchase on the tour boat on the return trip.  Please note that neither of the gift shops will not be open for this cruise.
Advance reservations are recommended. Book online or call 843-722-BOAT. Cancel within 24 hours and receive a full refund. Walk-up reservations are welcome at the Liberty Square departure point, 340 Concord St. on a space available basis. Parking is available at the nearby Aquarium Wharf garage.
Tour Details
5:00 p.m. Boarding at Liberty Square
5:15 p.m. Depart Dock
5:45 – 6:45 p.m. Tour Fort Sumter
6:45 – 7:30 p.m. Sunset Cruise on the Harbor
7:45 p.m. Arrive back at Liberty Square
Ticket Prices
Seniors/Active Military
$67.00
Details You Need to Know About Fort Sumter Tours
The Sunset Tour is hosted by Fort Sumter Tours, an authorized National Park Service concessioner. Rates are subject to availability and change without notice.
Fort Sumter Tour daytime tickets are 100% refundable if canceled 2 hours in advance of the departure time. If tickets are canceled less than 2 hours from departure time they are non-refundable. Rates and times are subject to availability and change without notice.  For Fort Sumter Dinner Cruise and Tours (Friday evenings only) the cancellation is 24 hours prior to the departure time.
America the Beautiful – National Parks and Federal Recreational Lands Pass, frequently referred to as the National Parks pass does not apply to the ferry fee. This includes the Interagency Senior, Access, Military, 4th Grade Pass and Annual passes.
Fort Sumter tours cruise in most weather conditions year-round. The Charleston area experiences a high number of lightning strikes during the summer. Know the latest weather conditions and seek safe shelter in the event of lightning or thunder. Lightning identified within 10 miles of Fort Sumter will prompt the closure of the observation deck, and visitors are advised to shelter in the fort's museum or on the ferry. The National Park Service and Fort Sumter Tours will inform visitors when there is a possibility that storms may impact the length of time visitors can spend at the fort. For more weather information, visit www.nps.gov/fosu.
The Fort Sumter Tour is a boat excursion. Due to changing weather and tide conditions, Fort Sumter Tours cannot and does not guarantee accessibility. The Liberty Square boarding ramp can accommodate electric and manual wheelchairs and scooters except in extreme tide situations. The Patriots Point location cannot accommodate wheelchairs or scooters. To ensure your visit will be fully accessible, we recommend calling Fort Sumter Tours on the day of your visit at 843-722-2628.
Fort Sumter has limited accessibility for those with mobility issues. There is no elevator service at Fort Sumter. The museum, restrooms, bookstore and top level of Fort Sumter are only accessible by climbing stairs. The tour boat does have restrooms and will remain at the fort during your visit. The tour boats are equipped with an elevator/lift and handicapped accessible restrooms. Please visit the National Park Service Accessibility page for more details.
No concealed weapons are allowed on any vessels operated by Fort Sumter Tours.
This service is operated by Fort Sumter Tours, a Concessioner under contract with the U.S. Government and administered by the National Park Service. The Concessioner is responsible for conducting the operations in a satisfactory manner. Prices are approved by the National Park Service.
Please address comments to:
Superintendent
Fort Sumter & Fort Moultrie National Historical Park
1214 Middle Street
Sullivan's Island, SC 29482
[email protected]
Other Attractions
Charleston Area Tours